Fake Leagues, Real Fun
Legendsport.com is the home of the Figment Universe. The Figment Leagues are sports simulations leagues with fictional teams and personnel in a real-world environment. We make our own history and have fun doing it!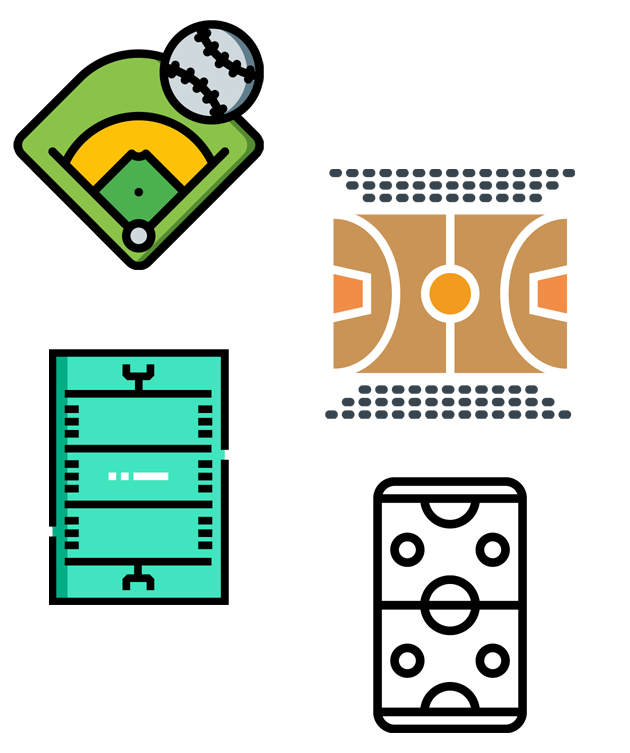 What it's all about...
1

Fake Players

No Babe Ruth? No problem, let's find our own. Fake players means no expectations and an organic experience as you watch your players develop.
2

A Curated Experience

The commissioner has no team and no bias, and can concentrate on keeping it fun. Immersion is important - the goal of the commissioner will be to get and keep people invested in their teams and players.
3

Top-Notch Sim Engines

The Legendsport Leagues use top-notch sims like Out of the Park Baseball.
4

Real World Basis

The players and teams are fake, but the world around them is based on reality to lend a base of familiarity.
5

Proof of Concept

The first Legendsport League is Figment League Baseball and it will be the blueprint for possible future leagues in basketball, football and hockey.
The Figment Universe
The Figment Universe encompasses an assortment of simulated sports leagues that operate within a common fictional world that closely resembles our own historical reality. The leagues share this common world, but operate at different points along the historical timeline.
Baseball
Figment Baseball began its pre-play period in 1876 and transitioned to an online league for the 1926 season utilizing Out of the Park Baseball 20 from Out of the Park Developments.
Basketball
Figment Basketball  will have a pre-play period beginning in 1910 with a college-only focus, adding a professional league in the 1930s and transitioning to an online league in the late 1940s. The league will utilize Fastbreak College Basketball and Fastbreak Basketball 3 from Greydog Software.
Boxing
The first of the "non-league" sports, Figment Boxing utilizes Title Bout Pro Boxing from Out of the Park Developments. Boxing began in 1907.

Football
Figment Football will have a pre-play period starting in the late 19th century with a college-only focus, adding a professional league in 1920 and transitioning to an online league in the 1950s. The league will utilize Draft Day Sports Football from Wolverine Studios.
Golf
Another of the "non-league" sports, Golf will begin with the 1915 season, using Draft Day Sports Golf from Wolverine Studios.
Hockey
Figment Hockey will begin with the 1917-18 season. The actual sim engine to be used, the length of the pre-play period and start of the online league are yet to be determined.

Horse Racing
Horse Racing is being considered as the third of the "non-league" sports. If it occurs it will begin in the early 20th century and likely use Starters Orders 7 from Strategic Designs.

Soccer
Soccer is being considered as a possible online league sport. The pre-play period would likely begin in the 19th century and the league would focus on English soccer with the likely engine being the ESMS+ software.
More ideas...
Tennis
Olympics
Wrestling
FAQs
Got a question?
Why fictional?
Well, I've always been a big fan of historical sims (and still am). But sometimes it'd be nice to get away from the expectations that go along with historical leagues. If you have Babe Ruth, you want him to always play like Babe Ruth and sometimes he gets hurt, or just doesn't live up the hype. With a fictional league, there's no expectations. And if I'm a Yankees fan, I probably would shy away from running the Red Sox (or vice-versa) but with fictional teams, that's not an issue either. Plus it can be a blast to make your own history and discover your own "Babe Ruth."
Aren't you the Simsportleagues guy?
Yep - I also run simsportleagues.com and that site features historical leagues. Legendsport.com is actually older, and I've been sitting on the domain without really using it for a long time. It seemed like a good place for this new endeavor.
How does this work?
I try to be as consistent and reliable as possible. My leagues usually run every weekday, in the morning. Specifics vary by sport, of course, but a baseball league would run a seven-day sim each weekday during the regular season.
What simulation engines do you use?
I like Out of the Park Developments. OOTP Baseball is - by far - the best sports simulation I've ever played (and I've played nearly everything out there). That's my engine of choice for baseball. OOTP's hockey franchise is getting off the ground and I have high hopes there. Basketball is likely the province of Wolverine Studios' Draft Day Sports games. They're still a little rough and buggy, but get better each iteration. Football is a bit more up in the air. Draft Day Sports Football is pretty good, as is Front Office Football. DDS is more flexible though and that counts for a lot when you're going fictional. OOTP is supposedly working up a football game and I'll keep my eye on that.
Is this free?
Yeah, this is a hobby for me. I pay for the website and own the software to run the leagues. GMs will need to own the sim themselves for the day-to-day running of their teams.
Any plans beyond baseball?
Absolutely - although they're better categorized as hopes right now. I'd love to get a league in all four major North American sports. Some of it depends on the continuing evolution of the simulations themselves and also my available time and really, how well Figment Baseball does. If Figment flies, then it's very likely I'd try the same formula in another sport. Which one? No telling right now.